Omega Ploprof 1200m Re-Issue Watch Review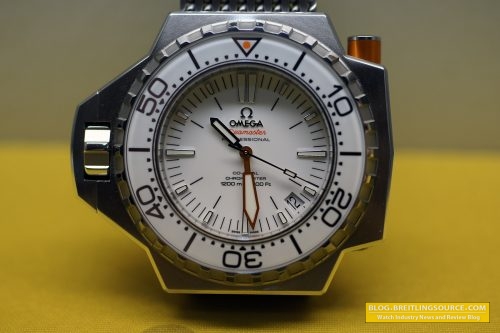 Been a bit busy with real-life lately, so haven't had a chance to really post anything except some new models and updates to the Breitling line. But I have added a few watches to the herd, and the Omega Ploprof 1200m is one of them! This is one of the watches that I have hummed and hawed over for the past few years since it came out. I wasn't sure if it was something I really wanted but I decided to finally pull the trigger on it, and ended up buying the white one too! So here she is…
There she is, the white-dialed beauty in all her vintage re-issued glory. I love re-issues of vintage pieces, mostly because I love vintage styled watches but I don't like the maintenance and hassle of vintage pieces. A lot of people would call that character, and I agree, however life is already complicated enough for me! The name Ploprof is very odd, but has a simple meaning – it is short for Plongeur Professionnel, which means Professional Diver in French.
Here she is from another angle. The bezel features a sapphire crystal insert that lines up perfectly with the sapphire crystal over the watch dial which is pretty cool. Its a flat surface all the way across. I love the way the bezel looks sunken underneath the sapphire crystal. The lume is very solid on this model, and because its the white dialed model, the whole bezel is actually lume! It glows like a torch in the dark which is pretty awesome.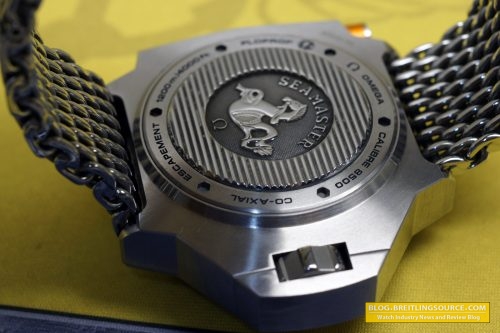 The back has the familiar Seamaster Seahorse, or "Hippocampus", emblem on it surrounded by some ridges presumably to make the watch sit better on the wrist. It also provides some important information about the watch, should you forget, such as the 8500 Caliber Movement, 1200m Water Resistance, and Co-Axial Escapement. The 8500 Caliber is Omega's ubiquitous in-house co-axial escapement movement that is featured in several of their watches. It is a solid and reliable movement.
The crown is an interesting design, and may appear difficult to access when you first look at it. However, it is quite the opposite and is engaged by simply unscrewing the crown as usual. …read more