Omega Snoopy in LOST IN SPACE!!!
By raphael too
So I shot these watches sometime back but had put them in my old drive that got put aside and which I had not accessed in a while so these pix were lost in the dark space in my cupboards but these watches have been in tight spots before and earlier versions of the speedy have participated in space adventures and so being in limbo for awhile was no bother… these watches are still cool as ever
first up the Snoopy!
A Cool and Fun Watch for the Snoopy lovers and NASA/space enthusiasts. What could u do in 14 seconds?
failure is not an option. the 12 o'clock indices kinda looks like uhm… hmm 'the Speedmaster Apollo 13 Silver Snoopy
Award features a white dial with black varnished hands, a white hand on the small seconds sub-dial, indexes
with black varnished top cavities and a polished black ceramic bezel ring'
Eyes on the Moon! oops I mean Stars
This wristwatch features a caseback that is unlike any other.
A 925 silver Snoopy medallion, mounted on a plate of the same material, is surrounded by alluring dark blue enamel.
A silver powder is sprinkled on each individual caseback by hand, giving the impression that Snoopy is floating
in space. The silver medallion resembles the pin – the Silver Snoopy Award – that was presented to OMEGA
for its contribution to the success of the Apollo missions.
A tribute to the 45th anniversary of the legendary Apollo 13 mission and the Silver Snoopy Award that OMEGA
received from the astronauts upon their safe return to Earth, this timepiece tells a story of the brand's role
in space exploration and highlights NASA's connection to Snoopy and the rest of the Peanuts gang.
Speedmaster variants… i like the one on the left…
but this be cool too with the red gold bits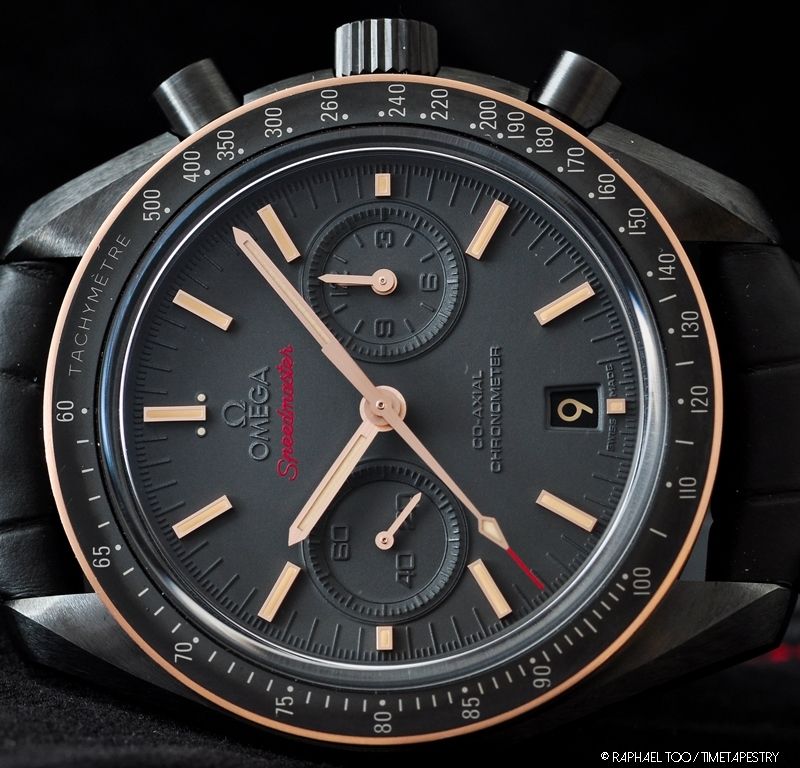 but this looks to be the same as the classic but in the black case… very nice
diamonds are a girls best friend