Breitling Navitimer 01 Limited Edition Black Rotor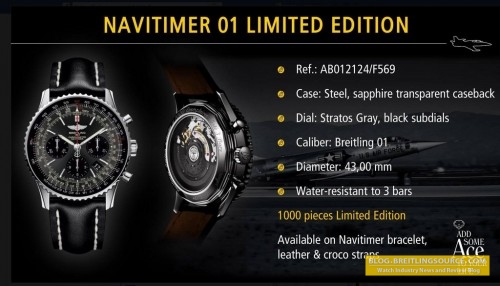 Breitling has released a "normal-sized" Limited edition of their Navitimer 01, the one that's 43mm. This is probably one of my favorite released from Breitling in recent times. Its a great color combo on the dial, with a sweet black rotor in the back. All that's missing is a black ceramic case! But overall I really do like the execution on this… subtle, but different enough. It was announced by a member on our forums way back in November, but no news of it on the site until the other day, and it is already available in stores as one of our members has just recently got it.
From Breitling:
The legend in gray and black livery
Breitling is introducing its famous Navitimer in a 1000-piece limited edition with a dark gray dial featuring black counters and a Manufacture Breitling caliber equipped with a black oscillating weight. The new face of a watchmaking and aviation legend.
Being a great classic means starting with a powerful design and being capable of self-renewal. First launched in 1952, the Navitimer handles these two aspects as deftly as a skilled pilot maneuvers his aircraft. In more than 60 years, it has established itself as a cult object for devotees of aviation and the doyenne of all mechanical chronographs produced worldwide. Alongside the flagship model with its black dial and silver counters, it also regularly adopts new and distinctive faces, such as that of the new Navitimer 01 Limited Edition. This exclusive instrument issued in a 1000-piece series is distinguished by its dark gray dial featuring a sunburst brushed finish that subtly offsets the black counters. The result is an original, technical and eminently masculine look enhanced by indications made using the "par épargne" technique against a pure silver backdrop. While the dial side with its famous circular aviation slide rule reflects Breitling's privileged ties with the aeronautical world, the caseback provides a window onto another of the brand's stronghold that explains its success among aviators: impressive mastery of mechanical chronograph movements. The Navitimer 01 Limited Edition is powered by Manufacture Breitling Caliber 01. This high-performance 'engine', entirely developed and produced in the company workshops and chronometer-certified by the COSC (Swiss Official Chronometer Testing Institute), is a guarantee of peerless precision and reliability. Echoing the special dial decoration, the oscillating weight visible through the transparent sapphire crystal caseback features a black coating lending an original …read more