Seven Bentley Cars, Seven Jets and Seven Breitling Chronographs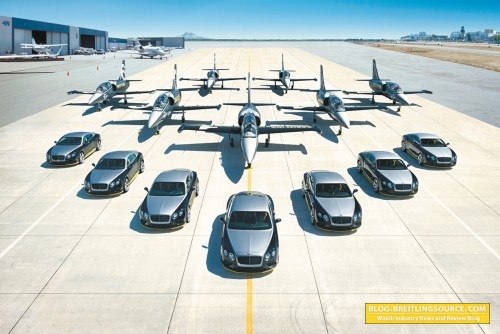 This is a bit of a fluff post since it really has nothing to do with watches so much as the crazy special treatment you get if you buy a Bespoke Mulliner Bentley Continental GT Speed… A complimentary ride in a Team Breitling Jet and a Breitling Chronomat 44 limited edition watch… very cool. But I had to post it because this photo is just way too awesome.
These seven gentlemen and their Breitling pilots look mighty happy about to enjoy the experience of a lifetime flying with guys. I am green with envy! Those are pretty sweet though.
From Breitling:
Breitling and Bentley unveiled the Bentley Continental GT Speed Breitling Jet Team Series at the Seattle Boeing Seafair Airshow. Owners of these bespoke Mulliner vehicles were presented keys to their seven cars in front of the seven jets by the matching jet pilot, and also received the corresponding Chronomat 44 Breitling Jet Team Limited Edition numbered timepiece. After seeing their cars for the first time, guests experienced a once-in-a-lifetime passenger flight in formation with the Breitling Jet Team high above the Seattle skyline.